»

»

»

»

Assad Khan Specialist Prosthodontist Devonshire House Dental...
Assad Khan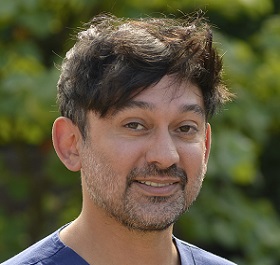 Specialist Prosthodontist
Assad is a Specialist Prosthodontist and an Associate at Devonshire House. He provides general dental care for a broad patient base and, as a Specialist Prosthodontist, is especially skilled in the replacement of missing teeth, the restoration of natural teeth and in complicated and simple restorations of the whole mouth.
Assad also offers facial aesthetic treatment to help smooth lines and wrinkles in the face, rehydrate skin and relax jaw muscles for patients suffering from jaw pain. As a Specialist Prosthodontist, Assad's understanding of facial anatomy naturally positiions him as an ideal facial aesthetics clinician.
Experience:
Assad qualified from King's College London in 2007 and subsequently gained experience in general practice, oral and maxillofacial surgery and community dentistry. After a year as a Senior House Officer in Restorative Dentistry Assad embarked on a 3-year specialist training pathway in Prosthodontics. In 2012 Assad gained his Masters in Clinical Dentistry (Prosthodontics), graduating with distinction from UCL Eastman Dental Institute. He completed his specialist training in 2013 obtaining his MPros qualification from the Royal College of Surgeons in Edinburgh.
Assad's expertise covers:
Full mouth restorations
Jaw pain relief treatment
Qualifications:
BDS (Lond) 2007
MClinDent Prosthodontics (Lond) 2012
MPros RCS (Edin) 2013
Registered Specialist in Prosthodontics
GDC Registration Number: 114313
Started going here just before Covid and I cannot recommend them enough. I had a front crown replaced which had been bothering me for years by Assad Khan and his team. From the moment I sat in the chair I was put at ease. Everything was explained fully and I was given a plan which showed what work was to be carried out, how long it would take to complete and the total costs. When the work was completed I was over the moon and still am with how my smile looks now compared to years of looking awful. I go back regularly for check ups and to see the hygienist Leanne who is also amazing at keeping my teeth clean and healthy.
All my fears were gone after I had a check-up with Assad Khan – so wonderfully considerate and gentle. I cannot praise Devonshire House Dental Practice highly enough. The standard of care I received was incomparable; and money was never better spent than on my recent visit.
The care, professionalism and advice I received from Dr Khan is second to none and I can definitely say that Devonshire House is a first class dental practice, professional, caring and with empathic staff, a place I would recommend to anyone. Thank you very much for making me feel so comfortable.
Once again a very professional and caring experience from Dr Khan. Really appreciate the understanding shown by him and his nurse today as I can be quite anxious about dental work. I will certainly be arranging my future treatment plan.
I'm dentist phobic and have had some variable quality dental care. Dr Khan is kind and knowledgeable – knowing when to treat and when to use watchful waiting.
My dentist Assad Khan has done outstanding work rebuilding and restoring my teeth – they had suffered extensive erosion and deterioration as the result of an accident (and age!) a while ago. He made a beautiful job of my teeth and I would say that he turns dentistry into an art. He used a range of procedures from implant to composite restoration. It was well thought out, skilful, fast and beautifully done. My teeth have never looked so good, they work well, and their positioning has improved my profile overall.
I was immediately taken by Mr Khan's manner. He quickly and efficiently filled my dental cavity and I hardly felt anything at all. I have no hesitation in going back to see him.
My dentist Dr. Assad Khan was a super nice and calm person full of empathy and patience. He was gentle and did a brilliant job fixing my broken tooth the very same day within an hour, wow and without me crying in terror! Assad, thanks a lot for that very positive experience.
Was my first visit to the dental surgery and from the time I arrived until I left everything and everyone were friendly, professional and helpful. My dentist Dr Khan put me at ease as soon as we met and he was reassuring and kind throughout my first consultation.
Excellent facilities, very welcoming and polite team. Dr Khan was very professional, he showed and discussed test results in great details.
Great service. We took our two children. Thank you for taking the time to make them feel at ease.
A very caring and professional service from the initial contact with the reception staff to the exemplary treatment from Dr Khan and his nurse. Thank you.
Assad was great throughout my initial consultation, very informative, professional, and was reassuringly honest and helpful.