Metal-free, tooth-coloured implants made from ceramic
Dental implants have become the treatment of choice for replacing missing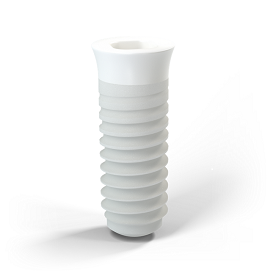 What are the specific benefits of ceramic implants?
Ceramic implants offer all of the functional benefits associated with titanium implants: reliability, high strength, excellent integration in the bone with the added benefits of being:
a metal-free alternative with excellent biocompatibility
the same colour as a natural tooth so will not shimmer through thin or recessed gums
an alternative implant solution for patients allergic to metal or with heightened gum sensitivity
Treatment and aftercare
Implant treatment and aftercare is identical for metal and non-metal implants and our Specialist Prosthodontists will be able to talk you through both options and will advise you of the best solution to meet your individual needs.
Expensive but the best. I came to Dr Nikkhah for ceramic implants for 3 upper front teeth. Was really apprehensive at first but I needn't have been. He always kept me informed and always made sure I was comfortable and happy with what was being done. He gave me back my smile with beautiful natural front teeth and I'm really happy with them. I have returned to him for more implants. Wouldn't go anywhere else.