»

»

»

Conventional crowns at Devonshire House Dental Laboratory
Conventional Crowns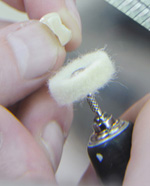 Crowns and bridges are a fixed restorative solution that restore a damaged tooth to its original form. Our dental technicians at Devonshire House Dental Laboratory are experts in all ceramic crowns, bridges and veneers, veneered ceramic crowns and porcelain fused to metal crown/ bridges.
Digital Workflow
Our custom built state of the art laboratory uses the latest milling machines and 3D printers to digitally produce implant retained crowns and all ceramic crowns. Combined with our 3D printer, we can deliver digitally produced products quicker with more predictable results. We offer a fast milling service to our customers.
Upper Anterior Porcelain Veneers 3 – 3: Thank you lab for a truly beautiful result.