GXDP-800 Dental X-ray System at Devonshire House
We are delighted to offer you a CBCT scanning service using our Gendex GXDP-800 system.
Our new X-ray system offers:
Greater field of view options
Dose reduction technology allows a 3D scan with the dose of an OPG
Scatter reduction technology reduces artefacts from metal objects in 3D
Dedicated 3D endo mode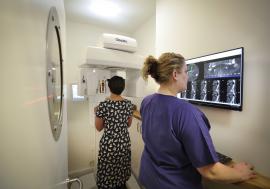 We can provide CBCT scans from as small as a 50mm by 50mm sectional scan through to a full upper and lower jaw in a variety of resolutions. All the available options are detailed on our referral form.
We will be happy to arrange a scan for your patient, by appointment, at their convenience. The fee is payable by your patient at their appointment unless you instruct us otherwise.
Your patient will be charged £105 for a scan if you are reporting on it yourself, £185 if you have requested a scan and single jaw report or £210 for a scan and double jaw report. A separate scan of the radiographic stent can be included if required. The scans are compatible with SimPlant™ and NobelGuide™.
The scan data can be exported and viewed using InVivoDental software or as raw DICOM files formatted for SimPlant™ and NobelGuide™.
I have been using the CBCT referral service at Devonshire house since 2015 and am always pleased with the service and quality of the scans. The online referral form is quick and simple to use. We always receive clear communication regarding the appointments and the scans are instantly emailed back to us in a secure format within 48-72 hours. The whole process is seamless. The radiology reports I receive with each scan are always very thorough and this gives me the reassurance that I have not missed any vital information. I highly recommend this service.
I've been referring to DH for CBCT scans for 6 years, first with the postal referral, and later with their online referral system. I have found their service invaluable for my implant planning purposes either full arch scans or smaller 50 by 50mm sections. The patients are contacted by their reception team and scan done by their inhouse radiologist. Communication with us, and the patient through out the process is excellent with scan data sets being emailed to us very quickly afterwards. I have, on occasion, used their radiologist reports which were detailed and concise.Their radiologist, when I've needed to speak to her, has been very helpful. I can recommend this professional service to all dentists who don't have access to their own cbct scan machine.