»

»

»

»

Cyrus Nikkhah Specialist Prosthodontist Devonshire House Dental...
Cyrus Nikkhah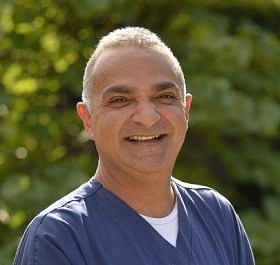 Specialist Prosthodontist
Cyrus is a Clinical Director at Devonshire House and a Specialist Prosthodontist. He provides general dental care for a broad patient base and, as a Specialist Prosthodontist, is especially skilled in the replacement of missing teeth, the restoration of natural teeth and in complicated and simple restorations of the whole mouth.
Experience
Cyrus qualified from Guy's Hospital, London in 1995. He went on to gain experience in maxillofacial surgery and was awarded his Fellowship in Dental Surgery in 1999. Cyrus completed his specialist training in fixed and removable Prosthodontics at the Eastman Dental Institute. He is a member of the International Team for Implantology for whom he is a clinical lecturer.
Cyrus joined Devonshire House in 2003 and is now a Clinical Director.
Cyrus's expertise covers:
Smile Makeover
Partial / full mouth rehabilitation
Qualifications:
BDS (Lond) 1995
FDS RCS (Eng) 1999
MClinDent (Prostho) 2004
MRD RCS (Prostho) (Eng) 2004
Registered Specialist in Prosthodontics
GDC Registration Number: 71056
I really cannot fault anything about this Practice. I've now had two major implant surgeries done by Cyrus Nikkah and both have been highly successful and well managed throughout. He is utterly professional, but at the same time overwhelmingly kind and caring when faced with me throwing a 'wobbly' through sheer terror!
A special thank you for the amazing service and treatment I received at Devonshire House. Both of which were second to none, all of the staff were brilliant; the welcomer, receptionists, nurses and of course yourself! Thank you for your patience, reassurance and for providing me with a perfect implant. I was out with some dental friends last week and none could identify which tooth I had lost and which one was the implant. I seem to have found my confidence and my smile again, to which I have you to thank. So once again, thank you, your work is amazing!
A very professional Dental Surgery excellent service all round and Mr Cyrus Nikkhah explained thoroughly all my options and restoring my confidence in having dental implants due a very necessary medical condition.
Devonshire House Dental Practice is an excellent specialist centre. Convenient location, patients car park, nice waiting room … BUT the best part of my experience was to see Cyrus Nikkhah who is an amazing specialist with years of experience and highly professional. Cyrus is very calm, confident and takes you through diagnosis and decision making.
My Dentist Cyrus took a totally stressful situation and turned it around making me a very happy guy. His professionalism and expertise gave me total confidence in my treatment but the best part was his kind caring demeanour. Thank you Cyrus and Devonshire house.
Cyrus has been so utterly marvellous for the whole time he has treated me. He took several X-rays and took the time to explain the details of my treatment before proceeding to extract two teeth and put in two implants within my allotted time. I experienced absolutely no pain, at the time or since. His work is exceptional.
Finding a good dentist is one of the most difficult and stressful things to do when you move city/country. After a lot of research I was lucky to find Devonshire house and could finally go to the dentist without stress and worry. The staff are very pleasant and professional and the dentists are among the best I've ever been to.Thank you all and special thanks to the wonderful Dr. Nikkhah.Dentist avoider ….. Not any more… Two visits under my belt now… Thank you Cyrus Nikkhah.