»

»

»

»

Deepesh Patel Specialist Prosthodontist Devonshire House Dental...
Deepesh Patel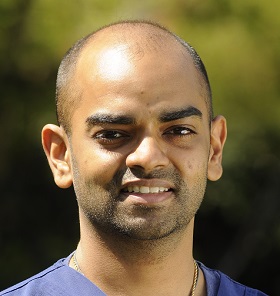 Specialist Prosthodontist
Deepesh is a Specialist Prosthodontist and an Associate at Devonshire House. He provides general dental care for a broad patient base and, is especially skilled in the replacement of missing teeth, the restoration of natural teeth and in complicated and simple restorations of the whole mouth.
Experience:
Deepesh qualified from King's College London in 2011 and developed his clinical experience in general practice whilst looking after a broad patient base. He completed his diploma in Implant Dentistry over a four year period at the UCL Eastman Dental Institute in 2017.He completed his specialist training at the Eastman in 2020, was awarded the UCL Alumni Prize in Prosthodontics for clinical and academic excellence and was allocated to the Dean's List for his academic result. The same year Deepesh obtained his MPros qualification from the Royal College of Surgeons of England and Edinburgh and he now teaches at the Eastman Dental Institute as a Clinical Teaching Fellow.
Deepesh's expertise covers:
Qualifications:
BDS (KCL) 2011
MJDF RCS (Eng) 2013
Dip Imp Dent (UCL) 2017
MClinDent Prosthodontics (Lond) 2019
MPros RCS (Edin) 2020
MPros RCS (Eng) 2020
Registered Specialist in Prosthodontics
GDC Registration Number: 211623
There is a pleasant and relaxed atmosphere at Devonshire House Dental Practice, and throughout all stages of my treatment, I felt reassured that I was receiving the best care and advice. Every staff member I spoke to was friendly, helpful, and professional. Dr. Deepesh Patel and the team clearly explained each step, and I am so pleased with the results. I would not hesitate in recommending Devonshire House. Thank you, Dr. Patel and the team.
I was left stranded by my own dentist in an emergency. I contacted Devonshire House Dental Practice in the morning and was given an appointment in the afternoon with Deepesh Patel. His attention to detail was first class and explained the situation to me patiently. The problem is now resolved and I feel confident that Christmas will now be enjoyable. Thank you Deepesh.
This Practice is fantastic. From the moment you enter you are greeted by friendly smiling staff and in my case Mr D Patel. This dentist is brilliant. I explained my distress at the state of my teeth and he understood from the outset. From then on it was all systems go….Mr D Patel is a very knowledgeable,talented and nice person who will give you your perfect ending. I would like to say a massive Thank you to him and indeed Rochelle who made my crown. It was spot on. Thank you for giving me back my smile.
Dr. Deepesh Patel is my usual dentist and is always very kind and a clear communicator.
As a new patient, all of the staff were very welcoming and professional. My appointment started pretty much exactly on time. The dentist I saw, Deepesh Patel, did a great job of doing the examination and explaining the X-rays, procedures etc. I will continue to come here in the future.
I went to this Practice to have a crown removed and replaced and also to have my teeth whitened I am ecstatic at the results.
I had a dental appointment with Dr Deepesh Patel and was very impressed by his clear communication and professionalism. The appointment was quick and efficient and I felt that the hygiene standards were very high.
Excellent dental care as always from Deepesh Patel. Highly recommended; he explains all of the management options frankly and honestly, allowing informed decision making. He also establishes very good rapport with younger family members.
Amazing! Deepesh warned that due to the depth of the decay and nature of the procedure there would be sensitivity and soreness – didn't feel a thing during, or at any time after! He and Rachael worked in perfect sync to pretty much recreate an entire tooth in a way a trained eye would be fooled. Many Thanks!
Excellent treatment from Deepesh. Very happy with the whole service.
After moving to Cambridge from Kent, where we had wonderful dentists, we were a little apprehensive that we wouldn't have a comparable experience here. We were very pleased with the excellent service we received from the practice on our first visit. We were very quickly put at our ease and we were impressed with Deepesh's thoroughness and pleasant manner and by the friendliness of the reception staff. We came here on a recommendation, and we would definitely recommend the practice to others.
I was amazed that I could be seen so quickly on a Saturday and a treatment plan devised so efficiently, putting my mind at ease. Mr. Patel was reassuring and clearly extremely competent. I really felt I was in good hands.
I would like to thank you for such a quick and perfect repair to my front tooth.I managed to get a short notice appointment on a Saturday.
I was seen by the lovely Dr Patel who looked after me very well with his nurse. For someone who is quite dental phobic this was the best dental experience I've ever had despite needing a tooth reconstructed under a local.