»

»

»

Denture Care at Devonshire House Dental Laboratory
Denture Care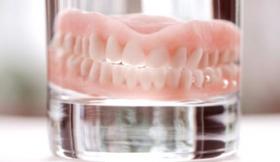 How to look after and clean your dentures
Brush your dentures twice a day with regular toothpaste and either a standard or denture toothbrush.
Keep them in an air tight box when not wearing them.
If you notice any cracks or fractures, call the laboratory for a repair appointment as soon as possible. Never try to repair them yourself with household glues.
When they start to feel uncomfortable or loose, contact the dental practice on 01223 245266 for an appointment.
Due to protocols in place due to the pandemic, please make an appointment to see your dentist if your dentures need repairing or professionally cleaning. We hope to resume the while you wait service soon.
Professional Denture Cleaning – £32 (for a single denture or a pair)
We also offer a while you wait denture deep clean service to thoroughly clean and polish your dentures to remove any stains and brighten them up.