»

»

»

Denture Repairs at Devonshire House Dental Laboratory
Denture Repairs
Due to protocols in place due to the pandemic, please make an appointment to see your dentist if your dentures need repairing or professionally cleaning. We hope to resume the while you wait service soon.
Dentures repaired and cleaned while you wait at our Dental Laboratory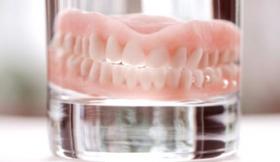 Are your dentures broken or cracked, missing a tooth or simply in need of a thorough clean? Dentures suffer from a lot of day-to-day wear and tear and can often break or become damaged when dropped. They can also be weakened as a result of tooth grinding or if they no longer fit your mouth properly.
If you are experiencing any of the above problems, the technicians at our Dental Laboratory can repair your dentures or give them a thorough clean while you wait. This drop in while you wait service is only available at our Dental Laboratory. Our dental technicians will of course be able to advise you if you have a more complex problem that may require the attention of a dentist.
Any damage to dentures identified during routine appointments at the Dental Practice will still be rectified as usual, wherever possible during the same appointment.
Denture Repairs – From £54
For broken or cracked dentures, or dentures missing a tooth that don't need assessing by a dentist.
This service also includes a thorough clean and polish of your dentures once repaired.
If by chance you have the plaster cast of your teeth that was made when your dentures were fitted, please bring it with you as it may be helpful.
Denture Cleaning – £32 (for a single denture or a pair)
A thorough clean and polish of your dentures to remove any stains and brighten them up.
For further details or to book an appointment