Family Dentistry
Dental care for children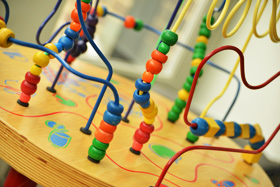 With a sensible approach to tooth brushing and diet, children can maintain a set of teeth free from dental disease. Over the decades Devonshire House has helped many families raise their infants to adulthood without ever having fillings.
Regular check ups allow your child to feel confident at the dentist and be involved and interested in the health of their teeth. We believe that by helping your family with preventive care and by using the most up-to-date preventative dental techniques you can watch your children grow up without cavities and fillings.
If a young person does eventually need some dental treatment, we will guide them through even quite complex treatment without any discomfort or loss of confidence.
Great service. We took our two children. Thank you for taking the time to make them feel at ease.
Paediatric Sedation Care
Children between the ages of 10 and 16 who require treatment under sedation, will be looked after by one of our specialist dentists who have undertaken additional training in Paediatric sedation care.
Additional appointments will be required including an initial consultation, and children under 10 will also need a pre-treatment consultation with our Consultant Paediatric Anaesthetist. Once the child has been assessed we can plan the best care pathway for them.
Orthodontics
At the appropriate stage of development crooked teeth can be straightened with modern efficient braces. The Devonshire House orthodontist, Dr Dirk Bister will diagnose and treat your child's crooked teeth using the most up to date orthodontic braces. Many adults who missed out on orthodontic treatment are also benefiting from the modern techniques now available. You are never too old to have your teeth straightened.
Teenagers
The Devonshire House approach to preventative care for growing children, combined with a supportive family, helps your children to reach their teens with a close to perfect set of teeth. The dentists, orthodontist and hygienists work hard to encourage teenagers to maintain healthy mouths and a daily dental routine.
Facilites for Elderly and Disabled Patients
At Devonshire House, we offer our disabled and elderly patients easy access to facilities within the practice. Close proximity parking, ground floor surgeries and disabled toilet facilities enable us to meet all of our patients' needs. In addition, a mobile hearing induction loop is available for use by hearing impaired patients throughout the practice at all stages of their treatment.