»

»

»

»

Guy Stephens Specialist Prosthodontist Devonshire House Dental...
Guy Stephens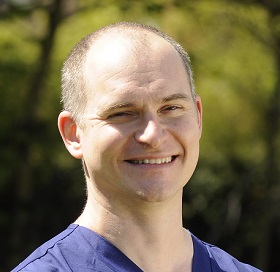 Specialist Prosthodontist
Guy is a Specialist Prosthodontist and an Associate at Devonshire House. He provides general dental care to his patients and, as a Specialist Prosthodontist, is skilled in the replacement of missing teeth, the restoration of natural teeth and in restorations of the whole mouth.
Experience:
After qualifying from the University of Manchester in 2002, Guy gained experience in general practice before undertaking the Certificate in Restorative Dental Practice course at UCL Eastman in 2007.
Guy completed his Masters in Clinical Dentistry in Prosthodontics at UCL Eastman in 2012 and obtained his Master of Prosthodontics from the Royal College of Surgeons Edinburgh a year later.
Guy's expertise covers:
Qualifications:
BDS (Manchester) 2002
MClinDent Prosthodontics (Lond) 2012
MPros RCS (Edin) 2013
Registered Specialist in Prosthodontics
GDC Registration Number:
80739
For health and dental care a safe pair of hands and reliable service is what every individual hopes for – Devonshire House encompasses this and more. Guy Stephens has provided excellent continuity of care with a reassuring and relaxed manner.
This was the first dental work that Dr. Guy Stephens at Devonshire House has done for me. I can only say that his workmanship is excellent. He and his kind nurse worked so efficiently to correct some things that needed to be fixed. The result exceeded my expectations and I am so thankful and appreciative of all their hard work.
I am really impressed with the work you have done on my old broken lower right tooth. Fantastic job, thank you for the most perfectly fitting crown, and the perfect colour.
I telephoned the Practice at 0800 hrs with a problem, namely a crown that had come off. By 11.30 hrs it was solved and I was totally reassured. This was entirely due to a combination of the excellence in efficiency of your receptionist and the skilled and informed pragmatism of Mr Stephens and his reassuring nurse. Thank you again for sorting out what I deemed a worrying problem and solving it with such speed and kindness.
I don't want to wear a mask any more and I take any and every opportunity to smile (widely!!!) in order to show off my teeth! Wow! The journey has been worth the results and I am so grateful for your care and expertise. The retainers feel very comfortable so far and I'm pleased to have them as I hope to keep these teeth looking this fabulous for a very long time! Thank you so very much.
Warm and friendly welcome to a comfy and pleasant waiting area. Guy, my dentist was fantastic and has confirmed areas of concern not highlighted by my own dentist. Fitted Temp. filling and agreed work req'd. going forward. Highly recommend.