»

»

»

Implant retained crowns at Devonshire House Dental...
Implant Retained Crowns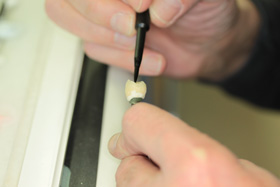 Implant retained crowns/ bridges are a fixed restorative solution to replace missing teeth. The technicians at Devonshire House Dental Laboratory are familiar with all major implant systems and are experts in abutment and crown designs. All of our components are genuine parts and come with manufacturers' warranties.
I saw my patient this morning who was delighted with her new implant retained crowns and was very proud to show them off. Thanks for doing a great job as I know it was a challenging case.