OPG at Devonshire House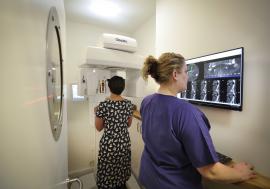 We are delighted to offer you an OPG X-ray service
Our new X-ray system offers:
Scatter reduction technology reduces artefacts from metal objects in 3D
Our dental X-ray system offers both panoramic and sectional 2D images of the upper or lower jaws. The required image can be tailored to your needs and offers an alternative which includes a specific bitewing setting for intra-oral intolerant patients.
Please note: The patient charge to be paid on the day is £80.
How to refer patients for an OPG:
or
Refer by post
Please outline all of your requirements and sign and return the form by email to our Dental Radiographer, Natasha Yeung scans@dh-dental.co.uk
Please note that incomplete forms may cause a delay in providing an appointment for your patient and that a dentist's signature authorising the request is required.
For further information please call us on 01223 245266
Receiving and Viewing Images:
The password protected images and viewing software will be sent to you using MailBigFile.com. A separate email containing the password will be sent to you from Natasha Yeung together with instructions on how to download and view the images.
Refer online
Online referrals are now available due to our new online signing facility.