»

»

»

»

Puneet Patel Specialist Periodontist Devonshire House Dental...
Puneet Patel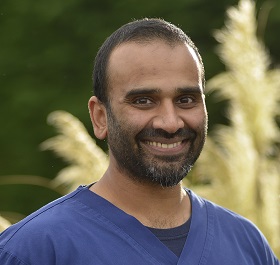 Specialist Periodontist
Puneet is a Specialist Periodontist and Associate at Devonshire House. As a Specialist Periodontist, Puneet is especially skilled in diagnosing, preventing and treating gum disease as well as maintaining the health of the mouth.
Experience:
Puneet qualified with Honours from King's College London in 2007 and went on to gain further experience by undertaking Senior House Officer training posts in Restorative Dentistry, Paediatric Dentistry and Oral & Maxillofacial Surgery. Subsequently, he went on to successfully complete a 3-year specialist training programme in Periodontics at the UCL Eastman Dental Institute. Puneet graduated with Merit in his Masters in Clinical Dentistry (Periodontics) and successfully achieved his MPerio specialist qualification from the Royal College Surgeons Edinburgh.
Puneet's expertise covers:
All Aspects of Periodontal Care and Management
Specialist Gum Surgery to help with:
Veneers
Crown and Bridge
Implants
Dentures
Qualifications:
BDS Hons (Lond) 2007
MFDS RCS (Ed) 2009
MClinDent Periodontics (Lond) 2013
MPerio RCS (Ed) 2013
Registered Specialist in Periodontics
GDC Registration Number: 115012
Very friendly and efficient treatment plan and costs laid out before treatment so no surprises. I was very impressed by the way I was treated. as bonus it's easy to find and not in town so that's a bonus.
Dr Puneet Patel is a great expert with a very personable and friendly approach. I feel very much in safe hands with him because he knows exactly what to do and although gum grafting leaves me feeling extremely squeamish I am happy to have this procedure done by him.
Mr Patel was very kind and very patient, fully explaining my periodontal problems and how they can be treated in future appointments. A first class service.
A huge thank you to Mr Patel for his exceptional kindness at my initial consultation. For the first time in four years, I left a dental examination with an air of positivity. It really is amazing how the professionalism and understanding of one person can make such a huge difference to my day to day worries in regards to my teeth. With a plan now in place, I'm looking forward to attending my next appointment.
I was very impressed with Devonshire House. My NHS dentist referred me to them as l have problems with gums and some teeth. They were very professional and put me at ease from the very beginning. I was expecting a diagnosis that would be negative. I was very relieved to find some positive alternatives that were suggested. I will be receiving treatment over the next few months which was booked there and then.
I saw Dr Puneet Patel for a gum inspection and to discuss possible treatment options. I liked his relaxed and friendly "bedside" manner, which included also asking about my mental health which I thought was a nice touch given the current ongoing craziness. The exam itself was very thorough and I liked him showing me on screens against x-rays of what the options are. I now have some treatment options to consider.
Mr Puneet Patel is an excellent dentist, caring, friendly and of a calm disposition who took time to explain my case and put me at ease straightaway. I highly recommend him.