Same Day Crowns
Fitting a crown usually takes two visits with your dentist. A first visit to prepare the tooth and fit a provisional crown to protect your tooth until your second appointment some days later to fit your custom-made crown.
Due to our latest investment in digital dentistry, we now have cutting-edge digital equipment which allows us to prepare and produce your crown more quickly so that we can offer you both appointments on the same day.
Your first appointment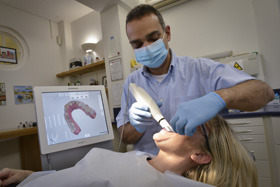 At your first appointment, you will have the tooth-shaped and a digital impression taken which is sent to the laboratory to make your custom-made crown. As your fit appointment will only be a few hours later, you will no longer need a temporary crown fitted.
Your second appointment
A couple of hours later, we will be able to fit your custom made crown which will have been made by our onsite Dental Laboratory while you wait.
How long will I have to wait?
Typically, crowns can be milled and hand finished within 2 hours. Therefore, your second appointment, subject to appointment availability, will be within 2 hours of your first appointment. You are of course welcome to relax in our spacious sitting room, or alternatively park in our extensive car park and go and explore Cambridge and the local area.
Why choose same day crowns?
Quicker "while you wait" treatment as both appointments can be accommodated in the same day.
Ideal if you have limited time, require treatment for a special occasion or indeed do not live locally:
Only 1 dose of local anaesthetic needed.
Same day crowns are ideal for patients who do not like having impressions taken via the traditional model casting method and for patients who suffer from gag reflex.
How is my crown made?
Your digital impressions are emailed to our CAD CAM technicians who then design your crown digitally and convert the file into the appropriate software to be received by our milling machine. Crowns are then milled and finally hand-finished by one of our highly skilled laboratory technicians.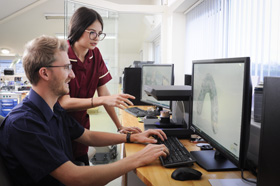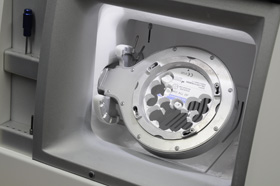 ---
Recently I managed to crack my upper right molar by grinding my teeth in my sleep, I was seen by Dr Cyrus Nikkhah at Devonshire House and after a thorough investigation and an X-Ray we agreed that the tooth would require a crown due to the fracture and that the crack was approaching the nerve inside the tooth, to stop the nerve developing an abscess I would require a Root Canal Treatment first. There was then the crown to provide in order to prevent further fracture of the weakened tooth. This Dr Nikkhah reassured me he could provide in one day with help from the latest scanner and the on-site laboratory, no more messy impressions making me gag or competing for my breathing, I thought it may be too good to be true but how wrong was I. Indeed I had a first appointment at 10:30am a few weeks after the completed Root Canal Treatment, and then returned at 2:30pm for the crown fitting. My teeth were scanned prior to preparing the tooth for the crown then rescanned to measure the new shape of the tooth and my bite, so quick and effortless, this data was emailed to the in house technician. The fitting was so simple, no grinding in of crown to tooth, the precision was incredible. I now have a beautiful new tooth which feels like what nature intended. I should mention that I'm a Dentist myself so in many ways would be the most difficult patient to treat as I understand the complexities so recognise if something is not being done as well as possible. I would recommend if you're considering a similar treatment to mine then treat yourself to the Gold Standard that Devonshire House provide.
I attended to have one of the new same days crowns; the convenience of having both appointments in one day is so great to fit in with my busy work diary. As always every aspect of my treatment was to the highest possible standard I would associate with coming to Devonshire House.
Having a same day crown was a very efficient process and meant just one trip to Devonshire House. The experience was stress free and there was no need for a temporary crown and all that that entails. This was made possible by the new digital scanning technology which enabled a replacement crown to be created with the exact contours of the original tooth during my two hour wait in the comfort of the sitting room.