Referral for a Scan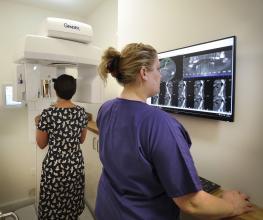 Your Dentist may refer you to us for a CBCT Scan or an OPG X-ray.
A CBCT Scan is a specialised X-ray test which produces clear 3D pictures of the inside of your body, in this case your mouth. An OPG is a conventional 2D panoramic or wide view X-ray of the lower face, which displays all the teeth of the upper and lower jaw on a single image. These images can be used for planning the position of dental implants or for periodontal (gum disease) or endodontic (root canal) assessment. Our Radiographer Natasha Yeung, will use our dental X-ray system to take your scan or X-ray and send it to your Dentist following your appointment.
On the day, you will meet Natasha or one of our other qualified Dental Radiographers, who will escort you to the scanning room and explain the process to you. The scan itself takes only a few seconds and your whole visit to us is likely to be less than half an hour.
If you have any concerns or questions that you would like to discuss before your appointment, please do call us on 01223 245266 and we will be happy to help you.
I was referred to the practice for a scan. The staff were friendly, welcoming and very professional. Bev, the radiographer who carried out the scan, was calm, reassuring and achieved the perfect balance between chattiness and efficiency.
Just needed a scan prior to implant placement but so impressed by overall service. Looking forward to the next stage.