Devonshire House Expertise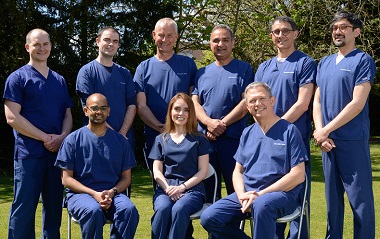 Experienced Specialist Dentists
With a combined dental experience of over 100 years, our team of Specialist Dentists have routinely provided thousands of patients with more than 10,000 dental implants over the last 30 years. Together, they have performed over 500 Smile in a Day procedures at Devonshire House transforming the lives of patients who had just about given up on their teeth. Their combined breadth of experience allows them to treat complex cases and share their knowledge.
Our team of Specialist Prosthodontists Guy Stephens, Philip Taylor, Julian Martin, Cyrus Nikkhah, Wail Girgis, Assad Khan, Deepesh Patel, and Ian Pearson.
I can't speak highly enough of the care that I received from the staff at Devonshire House. Before the surgery, I had made every effort not to smile or laugh because my teeth were such an embarrassment but I walked out that day on top of the world – more confident than I had been in years. Impeccable patient care and dental expertise that has changed my life.
Implantology mentors
Having devised an education programme of implant courses, our Specialists regularly provide implant mentoring to fellow dental professionals throughout the country.
Our Education Director, Wail Girgis, lectures at implant conferences world-wide and all our Specialists consult on patient implant cases on behalf of the industry's leading dental planning software supplier.