Smile In A Day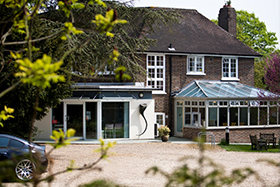 A whole new smile in just one day
Do you have missing teeth or are you experiencing the frustrations of loose dentures, decayed or broken teeth? Maybe you find yourself avoiding family photographs or are you worried about first impressions, because of your teeth? The dental team at Devonshire House want you to enjoy each and every reason to smile and offer a dental implant technique, called "Smile in a Day", that is simple, reliable and long lasting. Best of all, your initial treatment can be completed in just one day.
How will Smile in a day affect my life?
Dental implant-supported teeth look, feel and function like natural teeth. This means that you can eat and drink whatever you choose. It is beyond doubt that implant supported bridges improve quality of life. People who have felt embarrassed and worried because of their tooth problems are often overwhelmed by the improvements in how they look and feel with their new teeth. Many patients describe a new found confidence and increased self-esteem following completion of their treatment.
Why chose Smile in a day?
Eat what you like
Smile in a day dental implants you will be able to eat what you like and enjoy your food again, comfortably and confidently.
Smile with confidence
People with missing teeth often feel self conscious and avoid smiling. On top of that missing teeth can cause your face to look older, but Smile in a day dental implants can help to prevent shrinkage of the jaw bone, and therefore avoid this ageing effect, so you can smile with confidence. A traditional denture or dental bridge doesn't provide this benefit.
Smile in a day is a permanent solution
Smile in a day implants and your new set of permanent teeth are stable and comfortable, and often feel just like natural teeth. Unlike a denture it will cause no discomfort or embarrassment. No adjustment is needed after placement, and normally Smile in a day implants will serve you for life.
What is smile in a day?
A 'Smile in a Day' is quite literally a brand new smile in just one day. This is made possible with the placement of dental implants to support a new, full set of permanent teeth. Your new smile will look and feel completely natural, all in just one day.
Thanks to advances in surgical technology and the development of a range of innovative techniques, dental implants are easier to place, less invasive and have a more successful outcome than ever before.
What does the procedure involve and how does "Smile in a Day" work?
Smile in a Day requires a set of four implants per jaw and a bridge of replacement teeth that are placed onto the implants.
The dental implants, which are small titanium screws, are placed into your jaw. Your jaw bone bonds to the implant which becomes the anchor for the replacement teeth. You can find out more about how dental implants work and what they consist of here.
To complete the Smile in a Day, the bridge is placed onto the implants to give you a full new set of teeth. After just one day of treatment you leave the dentist with a brand new set of teeth, that will look and feel completely natural.
Here is what Michael said after his Smile in a Day treatment:
You can watch and read more testimonials here. Or, if you would like to talk to a person who has experienced Smile in a Day treatment at Devonshire House Dental, we are more than happy to arrange this for you.
What's next?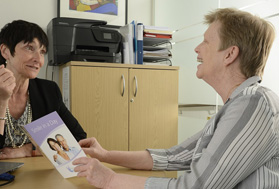 We're sure you have many more questions about Smile in a Day, so we have put together detailed information for you, so you can make an informed decision about whether Smile in a Day is right for you. If you don't find what you are looking for, or would prefer to have a chat with us about the treatment, please feel free to get in touch with one of our Treatment Co-ordinators on 01223 402 621 or email tc@dh-dental.co.uk.
FAQs:
What are the benefits of Smile in a Day?
Will Smile in a Day work for me?
What does the Smile in a Day treatment involve?
How much does a Smile in a Day cost?
Do you offer any payment options?
Where will the treatment take place?
What will happen after my Smile in a Day treatment?
Will I have to follow a strict aftercare regime?
What are the alternatives to Smile in a Day?
What do other smile in a day patients say following treatment?
Do you have more questions? Feel free to contact us.
Meet our team
Our team of specialist implant dentists have a combined 100 years experience in placing implants. So you are in the best hands with us.

Dentist Close Up: Cyrus Nikkhah
Like all dentists at Devonshire House, Cyrus has years of experience in placing dental implants. He specialises in full mouth restorations and has performed many Smile in a day procedures.
Cyrus has been so utterly marvellous for the whole time he has treated me. I experienced absolutely no pain, at the time or since. His work is exceptional.
Are you ready to regain your smile, your confidence and enjoy your food again? If you have any questions, or you'd like to talk to us about your Smile in a Day treatment, please contact us on 01223 245266.