Our Lab Team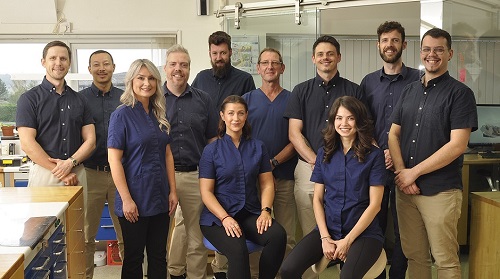 The Devonshire House Dental Laboratory has worked closely with general specialist dentists, providing needs of clinics covering prosthodontics and implantology, orthodontics, periodontics and endodontics. This fantastic facility helps our highly skilled dental technicians apply the best practice principles to all aspects of our technological support from a basic study cast to a full arch implant supported bridge.
We are exceptionally proud of the work our laboratory team produce.
---
Devonshire House has been looking after my teeth for the past 20+ years. Real artists, as well as dental professionals.
Laboratory Team
Qualifications
GDC No.

Nick Clarke
Laboratory Manager

RDT
BTEC National Diploma in Science and Dental Technology and PDC in Dental Technology, Lambeth College

130300


Jade De'Ath Watson
Laboratory Co-ordinator and Administrator


Greg Cummins
Lab Technician

RDT
BTEC National Diploma Dental Technology, South London College (Tooley St)

117328

Stephen Goodchild
Lab Technician

RDT
BTEC National Diploma Dental Technology, South London College (Tooley St)

135059

Daniel Lowe
Lab Technician

RDT
Foundation Degree Dental Technology, Lambeth College

179082

David (Manus) Hsu
Team Leader – Crown and Bridge Team
Ceramist

Verified experience in Dental Technology

129713

Emily Woodcraft
Trainee Dental Technician

Vanessa Gabor
Team Leader – Digital Department

RDT
Diploma in Dental Technology
The Victor Babes Univeristy of Medicine and Pharmacy, Timisoara, Romania
287068

Stefan Chiriac-Nan
Lab and CAD CAM Technician


Jason Kritzinger
Lab Technician


RDT
Registered under s36C of the Dentists Act 1984
304305

Adrian Kocun
Lab Technician


RDT
Transferred from DTA Voluntary Register

148007

Daniel Brown
Lab Technician

RDT
Foundation Degree Dental Technology, Lambeth College

253607