Treatment Co-ordinators
Treatment Co-ordinators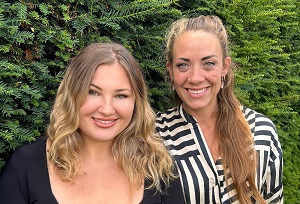 Our Treatment Co-ordinators Eleanor and Lydia provide a friendly welcome for patients and are the contact for referring dentists. They organise appointments, provide information and are always happy to chat over any concerns.
Experience
Eleanor joined Devonshire House in 2018 as part of our reception team and progressed to practice secretary three years later. Lydia, a former dental nurse , has been working at the practice since 2006 and has a wealth of clinical knowledge from assisting our specialist dentists.
Eleanor and Lydia offer a free of charge phone consultation to get to know us, discuss your dental concerns and talk about your treatment options.
Call Eleanor or Lydia on 01223 245266 to find out more about how we can help you or email tc@dh-dental.co.uk
I recently visited Devonshire House & could not be any happier with how I was treated & I never thought I would say that about a trip to the Dentist. As an extremely nervous patient, I feel 100% reassured that I am in very safe hands. Thank you Mr Girgis for your kindness & patience & Claire who spent time talking me through the dental plan.