»

»

»

»

Wail Girgis Specialist Prosthodontist Devonshire House Dental...
Wail Girgis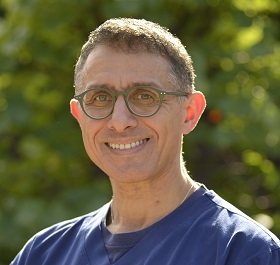 Specialist Prosthodontist
Wail is a Clinical Director at Devonshire House and a Specialist Prosthodontist. He provides general dental care for a broad patient base and, as a Specialist Prosthodontist, is especially skilled in the replacement of missing teeth, the restoration of natural teeth and in complicated and simple restorations of the whole mouth.
Experience
Wail trained at King's College Hospital Dental School, London and went on to complete an MSc degree in Conservative Dentistry at the Eastman Dental Hospital, London where he taught thereafter as a clinical lecturer. Wail went on to teach at the International Centre for Excellence in Dentistry on the Implant Certificate Course. He is a member of the International Team for Implantology for whom he is a clinical lecturer. Wail joined Devonshire House in 1998 and is now a Clinical Director as well as a Clinical Supervisor for the MSC in Implantology for VSS Academy, part of The University of Central Lancashire.
Wail also works at the Department of Prosthodontics at the Eastman Dental Hospital in London as a Consultant in Prosthodontics and Restorative Dentistry where he supervises implant surgery for the Postgraduate students on their specialist training. Wail also mentors dentists who are starting their implant journey and works as a visiting Implantologist at several practices.
Wail's expertise covers:
Full Mouth Restorations
Root Canal Treatment
Qualifications:
BDS (Lond) 1990
MSc Cons (Lond) 1999
Registered Specialist in Prosthodontics
GDC Registration Number: 66156
After four molar/pre molar implants, bone grafts and a sinus lift, I'm happy to describe Dr Girgis and everyone at the practice as a Rolls Royce among dentistry. The surgical and interpersonal skills, equipment, organisation and management are exemplary : I cannot fault them. They are not the cheapest, but provide outstanding value for money.
My experience at Devonshire House was first class, very happy Wail my Dental Surgeon is a true dedicated man I'd recommend him to anyone needing special care, every part of his work is done with attention to detail.
My dentist Dr Girgis is outstanding. He has worked wonders with my teeth and I am so glad I found this practice.
Mr Girgis and Devonshire House make a five star rating nowhere near high -enough. Excellent care, superlative attention at every level.
Words cannot express how thankful I am to Wail Girgis and his staff, for their care and professionalism. I cannot recommend them enough to everyone. From feeling very frightened and worried at my initial appointment to my final appointment today, I leave feeling very happy, confident and grateful and able to smile again. Thank you.
I have attended Devonshire House on several occasions over the past few years, and the treatment I have received at every appointment has been superb. Wail Girgis takes the time to explain things to me which puts me at ease, and I appreciate his warmth and friendliness so much that I actually look forward to going to the dentist! (something that was impossible for me for many years). I am thrilled with the implants and crown he has done, and I cannot recommend his treatment highly enough. Thank you Wail, and all staff at Devonshire House.
I never expected that there would be a point in my life when I actually enjoy visiting the dentist!