Referring Patients to Devonshire House
We welcome patient referrals for both specialist dental treatment, CBCT scanning and OPG X-rays. Our team of specialist dentists cover all specialisms: Prosthodontics, Endodontics, Periodontics and Orthodontics. We have continually invested in the best equipment and technology; and this is available for you to use alongside your own Practice facilities. Our CBCT scanning and OPG X-ray service is run by our dental radiographer, Natasha Yeung, using our Gendex GXDP-800 dental X-ray system. This system produces high quality 3D and conventional 2D digital images of dentition, TM joints and skull.
Meeting your patients' needs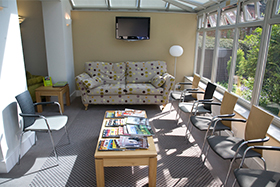 Specialist Dentistry Services using the latest treatment techniques and technology.
The Practice
Located near Addenbrooke's Hospital in Cambridge with full patient parking facilities, Devonshire House provides a relaxed environment and comfortable surroundings for your patients. Our focus is to provide high quality treatments with fantastic customer service for both you and your patient. Our high calibre team listen carefully to your patients' dental concerns and fully discuss treatment options with them, keeping you informed at every stage.
A convenient option for your patients
Devonshire House offers a convenient option for your patients:
Short notice appointments reserved for referred patients
Saturday appointments
A 24 hour emergency service
On-site laboratory for emergency repairs
Every treatment under one roof – our Specialists work together to offer the optimum outcome for your patients
Our Referral Promise – A Partnership in Dental Care
At Devonshire House, we are committed to involving you in the care we provide. When referring your patients to us, you can be assured that for every referral, we will:
Contact your patient without delay and see them at their earliest convenience.
Discuss all treatment options with your patient; keeping you informed every step of the way.
Provide your patient with comprehensive treatment plans and estimates for each suggested treatment option
Carry out only the specialist treatment for which you have referred your patient.
Return your patient to you to resume their routine dental care following their specialist treatment with us.
Keep you informed of changes or additions to your patient's treatment plan.
We welcome your involvement in the care we provide for your patients and invite you to view procedures or to be involved in restorative aspects of implant procedures.
Our reception team and Treatment Co-ordinators, will keep you informed of your patient's care at Devonshire House and are happy to discuss any aspect of the referral process with you.
"I always feel safe that I am referring my patients to such competent Specialists who care for them in the same way I do".

Kim, Referring Dentist Saffron Walden
I wish to thank Devonshire House for responding to the referral from my regular dentist. They have been absolutely wonderful both in the welcome and treatment I have received. I felt very much at ease and in very expert hands. I would definitely recommend them to anyone in a similar situation.

Referred patient
I attended for an assessment with my own dentist and the care I was given was excellent. The dentist shared his expertise with my own dentist freely and appeared to enjoy imparting his knowledge. I look forward to my next visit.

Referred patient
Free Welcome Consultation with our Treatment Co-ordinator
Our Treatment Co-ordinators, provide an opportunity for your patients to have a chat over the phone to get to know us and discuss their dental concerns, before committing to an appointment with a Specialist Dentist. 
Find out more about what we can offer your patients at Devonshire House.