»

»

»

»

Julian Martin Specialist Prosthodontist and Endodontist Devonshire...
Julian Martin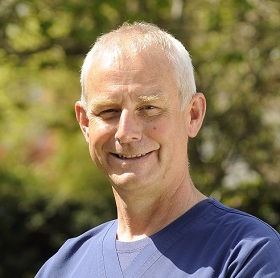 Specialist Prosthodontist and Endodontist
Julian is a Clinical Director at Devonshire House and a Specialist in Prosthodontics and Endodontics. He provides general dental care for a broad patient base and, as a Specialist Prosthodontist, is especially skilled in the replacement of missing teeth, the restoration of natural teeth and in complicated and simple restorations of the whole mouth. His Endodontics or Root Canal Specialism means that he is highly qualified to perform all aspects of root canal therapy including routine as well as complex root canal work, retreatment and endodontic surgery.
Experience
Julian trained at Guy's Hospital Dental School, London, qualifying in 1982. He was awarded his Fellowship of the Royal College of Surgeons of England in 1988 and a Masters Degree in Conservative Dentistry from the Eastman Dental Institute in 1989. He joined Devonshire House in 1990 and is now a Clinical Director.
Julian's expertise covers:
Qualifications:
BDS (Lond) 1982
LDS RCS (Eng) 1983
FDS RCS (Eng) 1987
MSc Cons (Lond) 1989
Registered Specialist in Prosthodontics and Endodontics
GDC Registration Number: 57325
I cannot emphasise strongly enough what an excellent dentist Julian Martin is. I feel utterly confident in his hands. I didn't feel a thing during a complex root canal treatment, and there was no pain following recovery from the anaesthetic. His work is of the highest possible standard and I am very grateful to have such a dentist. The colleagues of his that I have met are equally professional and friendly and I would recommend them without hesitation.
As always my visit to Devonshire house and Julian and his nurse was excellent, always on time always so professional and attention to detail in all areas 1st class , the treatment was excellent
Truly reassuring and truly The Best Dentist I have ever been too! I have seen a few! I highly recommend him, his knowledge and skills shine through! The team supporting him were also kind and amazing. Great experience, thank you.
I've had a lot of treatment at Devonshire House over the years to restore my smile after an accident I had. I've recently been again as I need some more treatment and my dentist Julian is just the best. I suffer with anxiety and he puts my mind at ease and explains things so I understand fully what the treatment plan will be. All the staff are friendly and it's the best dentist I've ever been to and will continue to visit in the future.
It is with gratitude that I thank Mr Martin, for his care and skill. From the waiting room, to the first greeting, I felt supported and encouraged by the team. I learned through my experience at Devonshire House, how to become a "good patient". Thank you to every one, from the front desk, to the personal hello from Mr Martin and Tina.
I came very nervous and with a number of dental problems but as soon as I opened the door of this practice I was made to feel very welcome. After my initial consultation and a procedure Julian and staff left me much calmer especially as each procedure was explained in detail. I'm at the beginning of a rather long dental plan but I feel so much more relaxed now that I know I'm in such great hands.
I have been going to Devonshire House for over 10 years and all I can say to everyone they are the best. Julian has really improved my teeth, very professional I am one very satisfied patient.
Mr Martin was amazing, very gentle, Reception Team were really helpful and I was impressed with the whole experience. Thank you. 10 out of 10.
Julian Martin is always happy to explain exactly what he is doing and I find that that makes me far less appréhensive ( and it is interesting!) My Dentist recommended this Practice to me when he retired some years ago and I would highly recommend it toanyone.
Julian is very professional but at the same time puts you at ease. He will do his best to accommodate you with appointments, even when you live 1.5 hours away! Very good with my husband who has had a serious stroke and has mobility, cognitive, co-ordination and sight problems.
Julian Martin is an excellent and reassuring dentist – highly recommend a visit!
As usual, excellent care and attention from Julian.